Shaman Durek | Reawakening Your Magic : A Collaboration with Omega Institute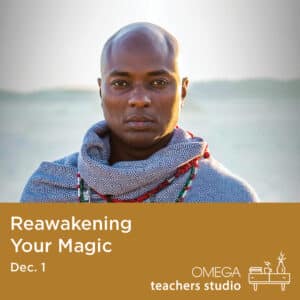 DATE: Tuesday, December 1st 2020,
7:00pm – 9:00pm EST 
PRICE: $39
($29 for Omega Institute members)
Omega is bringing some of its favorite teachers - including me! - directly to you live for intimate 1+ hour classes on topics that matter the most.
These live online classes are easy to fit in your schedule and affordable, too. Join me for Reawakening Your Magic, Tuesday, December 1st from 7:00pm-9:00pm EST.
I look forward to seeing you!
About the Omega Teachers Studio
The Omega Teachers Studio is a newly launched program designed to bring some of your favorite teachers directly to you—live!—from their studios.
You get an intimate front-row seat in a 1-3 hour class on topics that matter the most to all of us right now, including improving health and resilience, deepening spiritual practice, and taking action in your community.
They're easy to fit into your schedule—and affordable, too. It's easy to dive in. Book your live Omega Teachers Studio session today. Link to the full schedule of classes is here: https://www.eomega.org/studio