SHAMAN DUREK'S SERVICES
In order to bring harmony, success and well-being to your life, Shaman Durek offers various services, best fitting to your life's necessities. He creates personal healing programs, under the guidance of his spirits.
Depending on which direction the spirit guides show, Shaman Durek's services vary greatly, to bring harmony, success and well-being into your life. He works face to face, creating personal healing programs. He first consults your team, and inquire about what they think you should resolve in life.
Shaman Durek has various methods that he might apply for you. He can use drumming to put you into a trance to release poisons from your body, or simply sit and have a conversation with you about how your life is going. A loved one may come from the other side or you may ask questions.
Regardless, you will complete the session with the feeling of empowerment, stronger and free. His message, healing techniques and applications are intense and sometimes people are not ready to face certain things in life. However, Shaman Durek's sessions are profoundly helpful and he brings with him pure love.
Note: Shaman Durek works in Los Angeles, but he also does a great many long-distance sessions as well as visiting individuals in various places all around the world. To book an appointment with Shaman Durek, to book an appointment with Shaman Durek please email us at info@shamandurek.com or sign up for our newsletter below to get informed about new session openings and more.
• 1 hour Session
• Skype Sessions
• Soul retrieval
• Body treatment session
• Spiritual Surgery
• Home Clearing
• Workshops
WORKSHOP PRIVATE TRAINING
• How to Connect with your spirit guides
• Understanding the Spirit World
• The Power of words and how they can create or destroy
• Stepping into your power and living your truth
• How to See Auraus
• Chakras
• Earth Medicine
• Sacred Shamanic Journey to meet your power animal
• What are dreams
• Connecting with your inner child
• How to be in the flow and manifest what you want
• What is your real passion
• Manga Healing
• Awaken your sacred Rhythm
• Sufi healing using sacred Hamsa
• How to access your primal energy
• How to read people by sensing energy
• How to break a hex or curse
• Inner Flame Healing
•• Katamune Healing
• Jumbata Healing
• Mapping
• Jera Healing
• Spiritual Polarity identity
• Shamanic Soul Grouping
• Butterfly technique
• How to read people empathically
• Imprinting
• Opening the Sacred Channels of the spine
• Mental Entrapment limits manifestation
• Linear Perspective versus Quantum perspective
• Kuba Healing
• Mental Parasites
• Understanding the Quantum Sphere
• Heart healing
• Soul retrieval
• Grid work
• Inner Flame Healing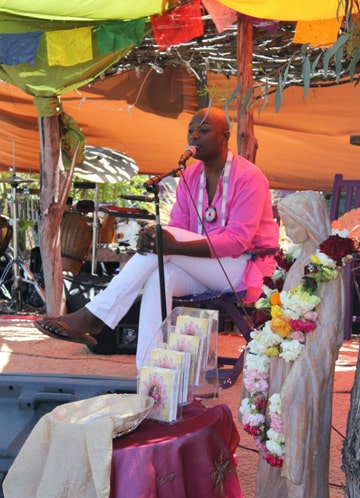 HOW TO PREPARE FOR YOUR SESSION
It is recommended that when you have a session with Shaman Durek, or are doing any kind of energy work in this field, that you block your day off from working or leave it open for after the session because the session can be very intense and may leave you in a bit of a daze. You want to avoid alcohol, meat and cigarettes, if possible, for 24 hours prior to your appointment and it is recommended for two weeks after. The cleaner your body vessel is, the more open you will be to receive healing. If Shaman Durek has to break down a lot of poisons, then it can take longer and you may need more than one session, but if you properly prepare your mind and body, the more you will reap the benefits!
WHAT TO EXPECT AFTER YOUR SESSION
For two weeks after your appointment, we recommend you keep to a vegetarian/vegan diet, avoid alcohol, smoking, and caffeine for those two weeks as well. Give yourself adequate time to rest during this time, try not to take on too much if you can help it.
It is normal to continue to release negative energies and toxins from the body for days or weeks after your session. Some people feel fatigue, symptoms of a cold, or a mixed range of emotions following a session. Some feel great, and continue to feel better each day. These will range from person to person. There is no right or wrong way to feel!