In my Wokeshops, I've extracted the best from the world's philosophies, religions,
spiritual teachings, and theories--offering a juice without pulp that will empower your life! My goal is to demystify spirituality, while adding a bit of science. Join me in seizing the tools of understanding--where you're able to have more, because 'you' deserve more!
Wokeshop Webinars are held bi-weekly. As well as being able to join the webinars live, you can also purchase past webinars on The Shaman School.
JOIN US FOR THE NEXT 'WOKESHOP' WEBINAR!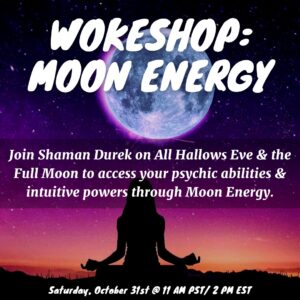 MOON ENERGY
When learning to understand shamanic moon energy and connecting with the moon it's important for us to be able to recognize that many of our senses have been dulled down by a system that keeps us reacting outwardly. The more we project our responses outwardly we forget to connect into the deep intuitive state that allows us to feel the subtle frequency of life and connection to everything around us. When we are fully open to receiving that connection, we open our psyche and our intuition which supports us in navigating our lives easier.
Join Shaman Durek in understanding the expansion of the moon energy and connecting into the deeper parts of the lunar energy. You'll learn moon rituals and connect with the moon to enhance your life for richer manifestations and attunement to your psychic abilities and intuitive powers.
Saturday, October 31st |  11am PST  |  90 minutes  | $20
*Please note: Even if you cannot attend live, all registrants will receive a full replay of the wokeshop for their viewing*
Anyone can join! Click below to register now!
*SPACE IS LIMITED*
To find correct time in you time zone, please refer to the countdown clock above
This wokeshop will be 90 minutes long and  will conclude with 10 minutes of shamanic healing from Shaman Durek!
*All registrants, whether you are able to attend live or not, will receive a link to view and download the recording of the wokeshop to enjoy whenever you like*