HEALTHY (ISH!) with SUSANNAH TAYLOR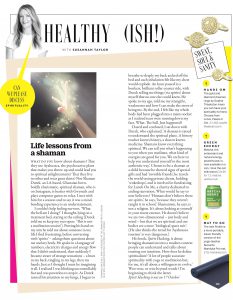 This is a full online re-paste of the Grazia Magazine piece about Shaman Durek. Re-Produced with Permission.

What do you know about shamans? That they use Ayahuasca, the psychoactive plant that makes you throw up and could lead you to spiritual enlightenment? That they live in tribes and wear grass skirts?
Not Shaman Durek, an LA-based, Ghanaian-born, boldly charismatic, spiritual shaman, who is on Instagram, is besties with Gwyneth and plays computer games to relax.
I met with him for a session and to say it was a mind-bending experience is an understatement. I couldn't help feeling nervous. 'What the hell am I doing?' I thought, lying on a treatment bed, staring at the ceiling (Durek told me to keep my eyes open: 'This is not a meditation session').
Putting his hand on my arm he told me about someone in my life I find frustrating, before conversing with 'spirits' – asking them questions about me and my body. He spoke in a language of numbers, electricity charges and energy flow that I didn't understand, then suddenly I became aware of strange sensations – a buzz in my back, tingling in my legs, then my hands. Just as I thought I must be imagining it all, I realised I was blinking uncontrollably fast and was powerless to stop it.
As Durek turned his attention to my lungs, I began to breathe so deeply my back arched off the bed and each inhalation felt like my chest would explode. An hour passed in a bonkers, brilliant roller-coaster ride, with Durek telling me things (via spirits) about myself that no one else could know.
He spoke to my ego, told me my strengths, weaknesses and how I can make the most of being me. By the end, I felt like my whole body had been plugged into a mains socket as I realised tears were running down my face. What. The hell. Just happened? Dazed and confused, I sat down with Durek, who explained, 'A shaman is raised to understand the spiritual plane. A history teacher knows history, a doctor knows medicine. Shamans know everything spiritual. We can tell you what's happening to you when you meditate, what kind of energies are good for you. We are here to help you understand yourself in the most authentic way.'
Chosen to be a shaman as a child because he showed signs of special gifts and had 'invisible friends', he travels the world seeing private clients, holding 'wokeshops', and is involved in fundraising for Lunch On Me, a charity dedicated to ending starvation.
What would he say to non-believers? 'Humans don't believe there are spirits,' he says, 'because they weren't taught it in school.' Shamanism, he says, is not a religion. It's about looking at yourself in your truest essence. He doesn't believe we are two-dimensional – just body and mind – but that we are spiritual and our bodies are a mere 'biological space suit'. (He also thinks the trend for 'Ayahuasca tourism' is very dangerous.)
His book, Spirit Hacking, is about bringing shamanism into a modern context people can understand and talks about trusting our intuition. How does he define spiritualism? 'A lot of people associate spirituality with yoga or meditation but, for me, it's all about a willingness to evolve.' Woo-woo, or wise beyond words? I'm beginning to think the latter.
Spirit Hacking is out on 17 October, 2019