Podcast : Ancient Wisdom Today with Shaman Durek
About Ancient Wisdom Today with Shaman Durek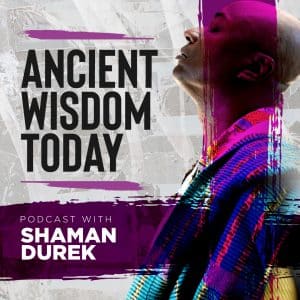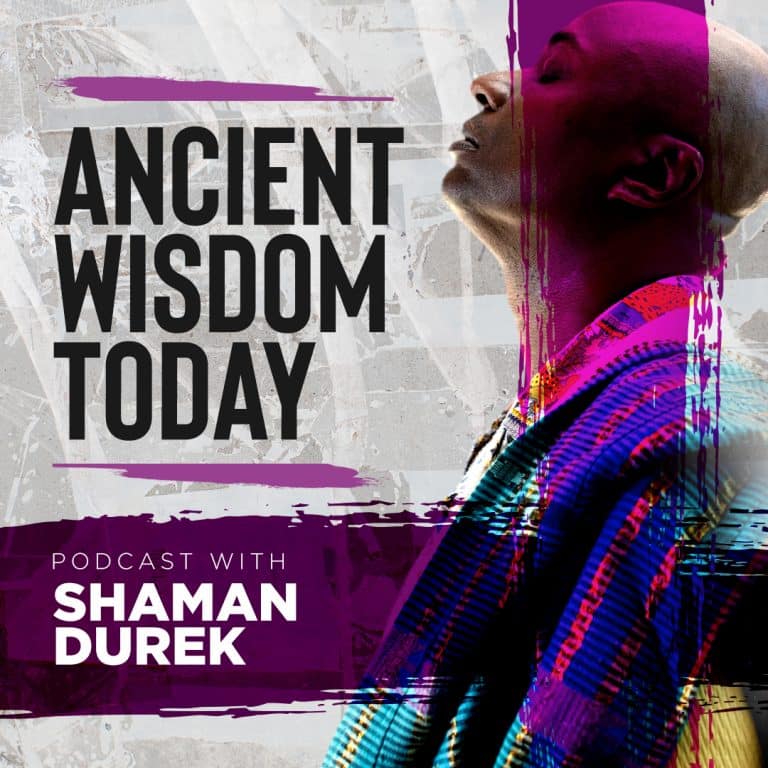 Shaman Durek is a 6th generation shaman, an evolutionary innovator, and a women's empowerment leader. He's here to bring forth the ancient wisdom of our elders to help heal and bring happiness into our modern society. We're sharing ancient knowledge in modern times, in order to put the power back in people's hands. Welcome to the tribe.
Ancient Wisdom Today is now on its 2nd Season; having enjoyed continued repeated success as a top rated Podcast on iTunes.
Mona Sharma is a powerful woman leading change in the health and wellness industry. She talks to Shaman Durek about how to use her teachings in daily life to enrich every aspect of existence.
The Tribe is love. The Tribe is spirit. The Tribe is playful. The Tribe is expanding.
Mona Sharma is a powerful woman leading change in the health and wellness industry. She talks to Shaman Durek about how to use her teachings in daily life to enrich every aspect of existence.
The Tribe is love. The Tribe is spirit. The Tribe is playful. The Tribe is expanding.
Mona Sharma is a powerful woman leading change in the health and wellness industry. She talks to Shaman Durek about how to use her teachings in daily life to enrich every aspect of existence.
The Tribe is love. The Tribe is spirit. The Tribe is playful. The Tribe is expanding.
Latest Podcast Episodes on Apple Podcast
Monica Berg is a self-confessed "change junkie" who is on a mission to help people return to themselves. In this episode, she shares her ever evolving journey with kabbalistic study and how it has shaped her to become the liberated soul she is today. Tune in to learn how to tap into heartfelt desires, channel your spiritual hunger, and live a life filled with love and joy. After all, it is your birthright!
Tiffany Yu is an advocacy powerhouse on an ever-evolving mission to democratize disability visibility and share her individualized experience on a public platform. After years of playing small and fighting against the tide of what "normal" looks like, she has found an identity in the body she lives and thrives in. In this episode, we explore what Tiffany's journey of being unapologetically herself looks like, and how all of us can grow to become better allies to people with disabilities.
Dear friend and brother, Paul Aurand has spent 30 years on a mission to guide people to return to oneness. Now he has distilled his wisdom in his new book, Essential Healing, to empower the world to release their trauma and step into their soul's purpose. In this episode, we enter a field of higher consciousness and invite you to walk a path to purpose, connect to your soul self, honor your strengths, and shine your light into the world.
Dr. Will Cole is a pioneering functional doctor helping people reclaim their metabolic flexibility, and step away from the industrialized diet of snacking and eating on a constant loop. In this nutritionally dense conversation, you'll learn why time-restricted eating is not restrictive, and how creating an intentional window for your eating can unlock "the physician within."
By the time Alex Banayan had reached college, he had ticked all the right boxes and was on the path to success. The problem was it wasn't his path to success. He decided to embark on a quest to uncover the mechanics of the success mindset. It took seven years, and throughout the journey, he spent time with an array of iconic game-changers, from Bill Gates and Lady Gaga to Larry King and Quincy Jones, all of whom shared their wisdom on how to carve a path to your dreams. Alex Banayan calls this "The Third Door." In this episode, we discuss what it means to cherish your mistakes, weaponize supposed failures into wild successes, and why putting in the work means you'll never fail. You'll learn how to find the key to open the door to your goals and the steps to take to move through fear into your dream life.
Patti Stanger is rich in knowledge, spirit, and self-worth. We all recognize her from the wildly addictive TV show, "The Millionaire Matchmaker," on Bravo. She's also a third-generation matchmaker, and the owner and CEO of MillionairesClub123.com.

In this episode, we discuss the current dating epidemic, how dating culture has evolved since the show, and the steps you can take to attract the love you deserve and desire. We go beyond creating a dating profile and examine how our inner landscape and frequencies can affect the partners we're calling in.

I'm so excited for you to get to know the spiritual side of this dating goddess and learn about the ways you can elevate your frequency, learn to love yourself, and create the space for the right partner to align with your greatness.
Tiensirin is such a powerful force who can spread light across this planet shrouded in darkness. As an advanced certified Akashic Records practitioner, healer, and intuitive, she helps clients tap into their past lives and implement the ancestral lessons and codes in their present.

In this episode, she explains her path as an akashic reader and offers her perspective on how the collective can escape the matrix through art, self-knowledge, and inner trust. She also reads my Akashic Records, sharing incredible details of my past life as a pharaoh and my current mission here on earth.
Josh Stinton is a straight-up superhero! In the past six years, he has cycled across the Atlantic Ocean, hand-cycled through Japan, represented Australia in the world's largest downhill unicycle race, biked the world's hardest mountain bike race in the Arctic, and skied across Sweden in the 90km Vasaloppet race without ever having skied before. The best part is that he does all of these crazy adventures to help children's charities worldwide, and 100% of the money goes to these causes.

In this episode, you'll find out how he silenced his inner critic to participate in extreme sporting events with no previous experience and the new mission he has his sights on: to be the first person in the world to run across the sky. Now, how's that for a superhero?

We explore the energetics behind his unique 888 process and how it can help you move out of your own way to live your best life.
Charles Chen has mastered the ultimate mind, body, spirit transformation. He went from being pre-diabetic, weighing 260 pounds with no lust for life, to losing 100 pounds and reclaiming his self-worth and power. He's now helping others shed the physical and mental baggage that's holding them back from showing up as their best selves.

We explore the energetics behind his unique 888 process and how it can help you move out of your own way to live your best life.
Global inspirational speaker and life coach, Marcus Black, is bringing his love fire energy and transmuting his vitalizing message to you all. Can you feel it? It's electrifying.

My inspirational brother shares how he silences the noise and drops into trust despite the adversities that come knocking. Marcus' wisdom serves as a reminder that we do not walk through this world alone and are always guided by something greater than ourselves – we simply have to surrender to it.
Erin Claire Jones explains how Human Design offers a blueprint for our energetic DNA. From business and friendships to partnerships and parenting, learning about our Human Design can help unlock our inner knowing (that we have never been able to articulate to the world) and come back to our true selves.

We discuss how investigating Human Design can help guide your decisions and help you listen to others – and yourself.
Going Deeper with HigherDOSE
Today we're putting the spotlight on @higherdose, a LIT-verified company that has been elevating my frequency for quite some time now.

They've recently introduced a series of detoxification products for those on the go, so I could not be more excited to introduce the tribe to their Infrared Sauna Blanket, which brings the serotonin-boosting power of the Sun and Earth into your home, while simultaneously giving your body a workout. It's a gym and a facial in one!

We jump right into the science behind their crystal-infused blankets and explain why a daily DOSE of light therapy can help boost immunity in these dis-eased times and make you feel euphoric and beautiful.

We want as many people to access this incredible technology as possible, so we're offering a special discount for listeners! Use code "SHAMAN15" when you go to higherdose.com for 15% off your purchase.
Today's guest, Emily Fletcher, has been teaching mediation to adults (50,000 to be exact) for over a decade. Now, she has turned her focus to children, with a mission to create the first generation of evolved kids who can healthily process their emotions.

Emily discusses her new project, zivaKIDS, and how she co-created a new blueprint with a team of experts to inspire children from the age of 4 to meditate, manifest, and process trauma.

She reveals how motherhood set the stage for her child-centered work and why creating a holistic home with your children without tech-dependency is within reach – as long as you're willing to lead by example and champion the change.
Dr. Alejandro Junger and I examine humanity as a species, exploring the different ways humans have wandered off the course of natural design to arrive in the collective state of dis-ease we're in today.

Over-consumption is a pandemic depleting our body of nutrients and the vital information our cells need to thrive. Dr. Alejandro Junger's methods consciously integrate science and spirituality to get our bodies back functioning the way nature intended.
Sarah Faith Gottesdiener is a divine moon goddess who embodies the collective wisdom on human connection with the luna.

Today, she teaches us how to transform our mindsets, shed what no longer serves, and step into our power by following the moon's light and using it as a spotlight to our soul's purpose.

We also discuss how her book, The Moon Book, re-activates the body's natural alignment with the moon through spells, tarot insights, and journal prompts to transmute energy, connect with Source, and collaborate with the earth's magic.
My heart exploded with expansion when I had the chance to connect with Mark Groves, the human connection specialist who empowers people with tools to reclaim the sacred relationship with themselves and those around them.

We align in our belief that, to come together, we have to break apart what is and dismantle the structures that imprison us—particularly the roles, labels, and boxes that keep us playing small.

Get prepared for some serious mic drop moments, as we consider how one can find a sense of belonging when we have been programmed to self-abandon, stigmatize, and segregate.
Rodrigo Garcia Platas has facilitated so much change in systematic psychology with his multi-faceted approach to human identity and development. He is a pioneer of information, and I'm so excited for you to learn more about his practice – and yourself – today.

After years as a transformation master coach, Rodrigo became versed in Unani BioTypes: An ancient method of identifying and categorizing the different types of humans. He began applying these principles to his work with great success, diagnosing people's personalities from facial expressions and body language alone.

Today we deep-dive into each biotype's characteristics and explore how they help us construct meaning in our world.
Nousha Salimi is such a gift for the soul – and skin! Her face oil, The Reset, is a permanent fixture in my cabinet. My friends are always trying to steal a drop because it gives them an instant beauty boost.

Today, she discusses how she integrates cosmetic enhancement with spirituality to help her clients glow from the inside out. She also shares the perfect pantry self-care ritual we can all try at home to give you an instant lift.
Serena Poon is a luminous well of knowledge when it comes to aligning our eating habits with our energy field to make us feel healthy, empowered, and joyful.

Beyond her academic credentials (CN, CHC, CHN + Reiki master), she has applied herself to understanding the spiritual undercurrent of our digestive systems, creating her world-renowned Culinary Alchemy food programs.

In this episode, she breaks down the toxic triggers which plunge our bodies into a state of dis-ease, as well as the long list of super-foods that will make you feel amazing — including Just Add Water, her all-natural nutrition-packed snacks you can grab on the go.
Dr. Caroline Leaf's beautiful mind drops into the Lit-sphere today to talk about reconstructing the neural pathways of our brain to remedy what she defines as our "mental mess."

I love sharing with Dr. Leaf because she openly listens to shamanic principles, such as time travel, and grounds them in hard science. We delve deep into the mechanics of the brain/mind and the library of information we have stored in our non-conscious, which plays itself out in our everyday interactions.

I strongly encourage you to take this mind-game to the next level by investing in her transformational book, "Cleaning Up Your Mental Mess: 5 Simple, Scientifically Proven Steps to Reduce Anxiety, Stress, and Toxic Thinking" Your mind (and heart!) will thank you for it.
I was fortunate to share a blessed moment with Shannon Algeo, a force of nature in the motivational space.

And today you have the chance to swim in the wisdom of his words as he shares his emotional journey of how he healed inter-generational wounds, detoxified his soul of misguided rage and toxic masculinity, and learned to exorcise anger through the cathartic practice of Yoga Nidra.

He has just birthed a beautiful book — "Trust your Truth" — which is a wonderful melody of teachings, meditations, and movements you can use to find the way back to yourself.
Blake grew up locked in a cycle of fear, toxicity, and ego that manifested itself in drug dependency, chaos, and an inevitable rock bottom before he finished high school. But he managed to turn things around by learning how to truly love himself, to honor his feelings and his purpose here on earth. Since his spiritual breakthrough, he has helped thousands of people around the globe liberate themselves from the debilitating narrative loop ingrained from childhood and ancestral programming. His transformational book, ¨You Were Not Born to Suffer,¨ is a wonderful resource to help you on your journey to greatness.

Today he's here to teach us how to overcome playing small and train our mental health muscles to live the life we all deserve to live.
Monica Randles & Andrew Marternowsk‪i‬
Fueling the body with nutrient-enriched food is a lifestyle pillar in my household, and I love the clean, ceremonial connection earth-sourced food gives us.

Recently, I was drawn to the wonderful plant-based brand, Nutcase Vegan Meats, a delicious, nut-infused meat alternative that's packed with all the yummy flavors of traditional meat fare.

From great chili to tacos and even jerky, Nutcase Vegan strives to make plant-based living accessible, tasty, and rich in nutrients. Trust me, even your carnivore circle will love these products.

It was an amazing experience to go deep with Monica Randles and Andrew Marternowski, the beautiful brains behind this brand, and delve into their product's origin story.

If you feel called to try this nutritious nutmeat for yourself, you can purchase it directly from Lit Verified.
Today I'm joined by Drew Canole, a man so connected to Mother Earth's forces that he has dedicated his life to bringing people back to the natural world through what they consume.

Drew is an example of how high-vibrational thinking, eating, and drinking can amplify every aspect of our material and emotional self. What I love about him is that he articulates from the place of a true creator, having weaponized his past trauma to birth the exact life he wanted to manifest. He's a reminder to us all that the power to change our lives comes from nourishing what he calls the 'eternal nowness.'
Years ago, Adam Ian's herbal concoctions enabled me to undertake a worldwide tour after a kidney transplant. Thanks to his wizardry, my body was super-charged (naturally) and I could spread the message of love far and wide.

This guy is truly the salt of the earth, who seeks to serve through the healing magic of plants, biochemistry, and microbiology, which he has been studying for over twenty-seven years. His company, Elemental Wizdom is conscious, clean, intentional, and 100% Lit Verified!

Today we reflect on the mind/body and earth connection and discuss the different ways we can reconnect to the earth's healing powers, support our ecosystem, and perform to our greatest potential.
Jessica Zweig is the sun! Her soul shines from the inside out, her million-watt smile lights up the room — and she is seriously slaying the media industry with her premier personal branding company, SimplyBe. This power boss woman is the ultimate definition of LIT!

The best part is that, after building some of the biggest brands in the world, she decided to spread her light force to the world and write her empowering book, "Be. - A No-Bullsh*t Guide to Increasing Your Self Worth and Net Worth by Simply Being Yourself." It's filled with golden nuggets to take your business strategy, life goals, and personal self-worth to the next level.

What I admire most about her is that she's not afraid of her shadow. She delves into the darker experiences in her life with as much vigor and insight as to her positive anecdotes. Rising even higher when faced with sexism, mistrust, haters, and judgments, to just SimplyBe the woman she was born to be.

I hope you walk away from this electrifying episode knowing you have the keys and the permission to be who you are in the world.
Sahara Rose is an ancient soul with a millennial mission to help all beings embody their sacred purpose on this earth. She's even worked her magic on me, nurturing the birth of this very podcast!

So it's no surprise that her commitment to helping the world find their calling led to her writing a book about it — "Discover your Dharma" — which enables you with the tools to embody your authentic desires.

Finding your north isn't always smooth sailing. As multi-dimensional beings, Sahara and I have ridden the waves of pain and shame, and have been knocked down before rising like a phoenix. We're giving you permission (not that you need it) to relinquish the labels thrust upon you and let your freak flag fly. You'll always be part of the Lit tribe whoever you are!
Troy Casey, aka The Certified Health Nut, is a truly soulful and sexy being who has helped thousands of people liberate themselves from victimhood, find balance from within, and shine that light force back into the collective and planet earth.

Our conversation is going to leave you lit! We deep dive into nutrition, mental health, spirituality, and gender politics. Take it from me, his life experience backs up his impressive physical package.

I can't wait for you to absorb his electric force and flip your yin/yang to operate from a higher frequency.
I feel elated to present this tribe to the beautiful, bountiful being that is Nikki Moore.

A wonderful First Amendment Lawyer and journalist, who is committed to protecting the rights and God-given freedoms of every being on this earth.

Quantum thinkers and savvy game-changers like Nikki are helping create a new system from the inside, and that's exactly what we need to facilitate real change in the 3D realm.

We share our thoughts on the assertion of feminine energies in male-dominated power structures, the fluidity of 'moral truths', and our spiritual mission to transform America's troubled incarceration system–a topic very close to my heart.

When spiritual and political forces come together, societal healing is possible!
Many know Kelly Rutherfield from her TV roles in Gossip Girl, Melrose Place, Homefront, and Dynasty. I know her as the pioneer of what I define as Simple Wisdom: a rulebook of lifestyle formulas that can help you find joy and peace right here, right now.

We talk about fear, blame, and navigating the unknown during the most testing periods of our life. I always feel safer after sharing space with her, and I know you'll feel lighter after this episode. She's as real as it gets!
UMI is a special being, who rose like a phoenix from a low-vibrational childhood into the globally-recognized musician she is today. When I first met UMI, her energy shot through the room like a lightning bolt. There was no need for introductions and pleasantries, she was my sister from the moment I clapped eyes on her. Today, we share our creative processes and discuss finding harmony and consciousness through the purest expression that exists in this realm — art.
Remington Donovon is a fellow vessel who works outside the matrix of limitations to make space for our true liberation. Today, he brings forth his spiritual teachings as a numerologist, qabalistic tarot reader, and seer to distill the significance of the global awakening occurring on the physical plane. Together, we co-examine our past lives and profound revelations in Egypt, the divisive aura of fear, and current energy shifts as we navigate the meaning of our purpose here on earth.
Frank Elaridi & Kat Graham of Modern Nirvana
We are in a great transition on earth right now, and that transition is about bringing in a new understanding of what it means to have health and wellness, vitality and strength, and vigor and deep spiritual connection. Connecting into that modern-day understanding are three powerful people who have come together under the name of Modern Nirvana, a resource that empowers people to tap into that core within themselves that is capable of bringing out their very best. Modern Nirvana is made up of Kat Graham, Bryant Wood, and Frank Elaridi, all here to take us to a new level of what wellness and realness are.
Sharaya J is a Rapper and choreographer who's fresh off the hit show "The Four," where she holds the record as the longest seat holder in the show's history. She's ready to let her talent do the talking. She has received high praise from Meghan Trainor, Sean Combs, and DJ Khaled. Not only is she a person of heart and soul, but her style, the way she walks into a room, and her skill are all remarkable.
Doug Evans is an early pioneer in the health food movement. After losing his parents to disease and cancer, he co-founded Organic Avenue, the first organic cold-pressed juice and raw food retailer in the United States. He is also the inventor and founder of Juicero. Now, he has a new book out, "The Sprout Book." He's opening up other organic experiences for people to live a good and healthy life, and he teaches us how to love our bodies and live in harmony with nature.
Gogo Dineo Ndlanzi is a powerful, deep Earth-rooted woman here to wake up our collective consciousness. She helps us pull back the layers of bandages where we've been hiding our wounds and allowing them to breathe, and no one else can do that like her. You'll feel the energy and the spirit and the depth of her ancestral love and energy. Dineo is her birth name, and Gogo is a word that closely translates to "grandmother," which means that she carries the wisdom of her ancestors and shares them through the power of story and dance. She believes that we all have the power within us to heal, and that we just have to learn how to take back that power.
Jason Harris is the CEO and co-founder of the award-winning ad agency Mekanism, co-founder of the Creative Alliance, and best-selling author of "The Soulful Art of Persuasion." He works closely with brands through a blend of soul and science to create provocative campaigns that engage audiences. Within that, too, comes the art of uncovering what it takes to be your best self, and that's what we need to hear from today. He shares with us what it means to be soulful, being an original, and using your skills to help others.
Shaman Durek's YouTube channel hosts powerful life-enhancing content to lift and shift you into Being Your Own Damn Guru.
This includes special meditations, guest conversations and messages of love. Some of this content can also be found on his Instagram channel. Check out these lit videos and click the button below to Subscribe.
How to Evolve; It's not what you think!
Every human being on the planet has a unique energetic signature that connects them to specific energies and frequencies that…
Are you surrounded by Energy Vampires?
If you're a person who thinks your energy is being drained, you actually put yourself around energy vampires, so they…

Don't ever second-guess the importance of your being. If you exist, you matter. You don't have to achieve anything to…
Is your energy being pulled from you?
Because human beings are driven by our need to be liked & need to belong, many of our relationship dynamics are marked by…
Subscribe to Shaman Durek's Youtube Channel
Click now to subscribe and experience exclusive and LIT video content from Shaman Durek.