The best selling book by Shaman Durek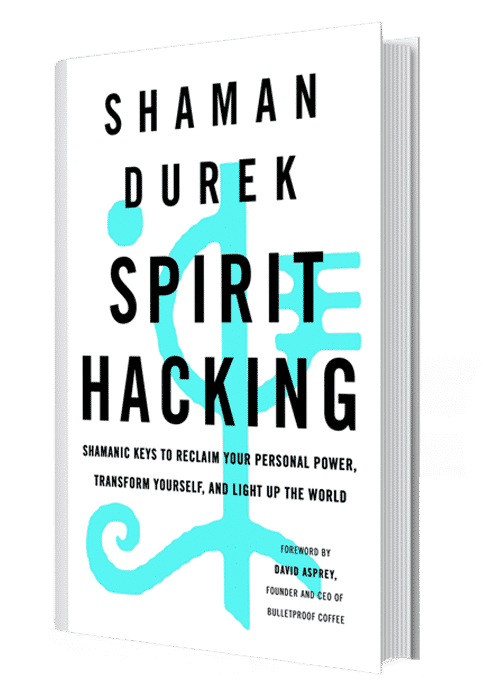 Available now from these great retailers:
What People Are saying about 'Spirit Hacking'...
"This guy does next level stuff. I have worked with him, and I have no idea how or why he is able to do some of the things I have witnessed. Science is just catching up with biohacking. It's time to start studying spirit hacking and how Shaman Durek can achieve the tangible results he achieves."
"In Spirit Hacking, I was swept away in an exploration of spirituality, quantum physics, neuroscience, and the real essence of what it is to be human. Shaman Durek has a unique way of bringing people out of themselves and helping them become their authentic selves."
"Rarely, if ever, are books by or on shamanism page-turners. This is the first I have seen, and it is stunning. Spirit Hacking will surprise you, undo you, and make you laugh. It invites you to a way of seeing the world that is deeply inspired and unique, entirely based on experience. It is authentic, gobbledygook-free, astonishingly honest, and a verbal mind-blow that is urgently needed at this time. It will flat out change how you see the world."
"Shaman Durek cuts through the noise of the modern spirituality scene and tells it like it is—making Spirit Hacking seem more relevant than ever for our modern lives today. Larger than life and with the presence of a true guru, Durek is a real-deal prophet for the Now Age."
"Shaman Durek is a bright light, the kind of light the world desperately needs. His authentic, loving presence allows anyone who is talking to him feel like they are the only one in the room. In a world where we are caught up in the next, he rests in the now. This deep present-moment awareness is where Shaman Durek shines. This book is his light in literary form."
"I didn't have any understanding of the spirit world and how much power it could add to my life until I met Shaman Durek. I'm new to all this but with the help of Shaman Durek and Spirit Hacking, I've developed a deeper connection to myself and my personal spiritual path."
"Profoundly insightful to the times we're living through, and hugely helpful on how to thrive in their midst—in spite of ourselves. Shaman Durek is a compelling storyteller, and he writes exactly as he speaks—casually, potently, and with a brilliantly calculating sense of humor. He knows what he teaches, and this is absolutely the topic that most needs hacking."
"Thank goodness for Shaman Durek. He is the real deal—big heart and no BS. He is a force of love and fierce wisdom, and in these current times, we need that more than anything."
"Shaman Durek breaks the barriers and helps you to connect to your deeper self. Spirit Hacking is one of his many tools for bringing spiritual wellness into your life. He empowers you to shine your brightest you."
"Thought-provoking, iconoclastic, and powerful."
Spirit Hacking by Shaman Durek
Shaman Durek's #1 Best-Selling book, SPIRIT HACKING: Shamanic Keys to Reclaim Your Personal Power, Transform Yourself, and Light Up the World, reveals the life-altering wisdom and powerful techniques that have made him a close spiritual adviser to celebrities like Gwyneth Paltrow, Nina Dobrev as well as innovative executives like Bulletproof Coffee founder Dave Asprey.
Sharing the rich legacy of ancient wisdom in a modern context, Shaman Durek offers readers spirit hacks to help banish fear and darkness in favor of light, positivity, and strength.
Shaman Durek delivers straightforward tools and techniques from a timeless Shamanic tradition. He understands every journey is messy and belongs distinctly to the individual. His bold and sometimes controversial wisdom shakes loose our assumptions about ourselves and the very world around us.
SPIRIT HACKING shatters readers' complacency, providing tools to navigate the tumultuous times in which we find ourselves.
By incorporating these spirit hacks into our lives, we can emerge from this period happier, lighter, and more vibrant than ever before.
Spirit-Hacking : Book Companion series
Now In The Shaman School!
Love the book? Go deeper now with this new set of classes!
Recommended to those who have read Shaman Durek's #1 Best-Selling book, SPIRIT HACKING: Shamanic Keys to Reclaim Your Personal Power, Transform Yourself, and Light Up the World.
This course taught by Shaman Durek will deepen your connection with the information in each of the chapters.

Shaman Durek's YouTube channel hosts powerful life-enhancing content to lift and shift you into Being Your Own Damn Guru.
This includes special meditations, guest conversations and messages of love. Some of this content can also be found on his Instagram channel. Check out these lit videos and click the button below to Subscribe.
How to Evolve; It's not what you think!
Every human being on the planet has a unique energetic signature that connects them to specific energies and frequencies that…
Are you surrounded by Energy Vampires?
If you're a person who thinks your energy is being drained, you actually put yourself around energy vampires, so they…

Don't ever second-guess the importance of your being. If you exist, you matter. You don't have to achieve anything to…
Is your energy being pulled from you?
Because human beings are driven by our need to be liked & need to belong, many of our relationship dynamics are marked by…
Subscribe to Shaman Durek's Youtube Channel
Click now to subscribe and experience exclusive and LIT video content from Shaman Durek.