SHAMAN DUREK'S OFFERINGS
Shaman Durek is all about putting the power back in your hands. We as humans all have the power to be Lit Leaders on this earth and Shaman Durek is simply here to be a guide to navigate the intricacies of your spiritual system.
*Note: All sessions are currently being done remotely ONLY until further notice*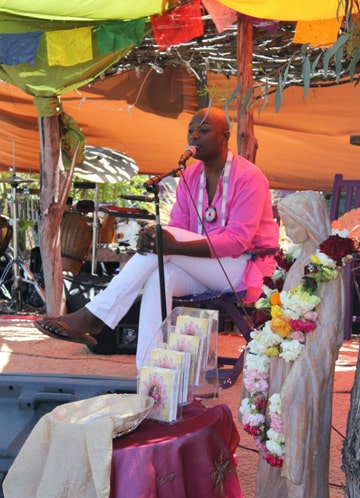 HOW TO PREPARE FOR YOUR SESSION
It is recommended that when you have a session with Shaman Durek, or are doing any kind of energy work in this field, that you block your day off from working or leave it open for after the session because the session can be very intense and may leave you in a bit of a daze. You want to avoid alcohol, meat and cigarettes, if possible, for 24 hours prior to your appointment and it is recommended for two weeks after. The cleaner your body vessel is, the more open you will be to receive healing. If Shaman Durek has to break down a lot of poisons, then it can take longer and you may need more than one session, but if you properly prepare your mind and body, the more you will reap the benefits!
WHAT TO EXPECT AFTER YOUR SESSION
For two weeks after your appointment, we recommend you keep to a vegetarian/vegan diet, avoid alcohol, smoking, and caffeine for those two weeks as well. Give yourself adequate time to rest during this time, try not to take on too much if you can help it.
It is normal to continue to release negative energies and toxins from the body for days or weeks after your session. Some people feel fatigue, symptoms of a cold, or a mixed range of emotions following a session. Some feel great, and continue to feel better each day. These will range from person to person. There is no right or wrong way to feel!