The Shaman and the Princess
A spiritual guide to the stars, Shaman Durek is now dating Norway's princess Märtha Louise – and aiming to spread his unconventional gospel.
By Sam Gillette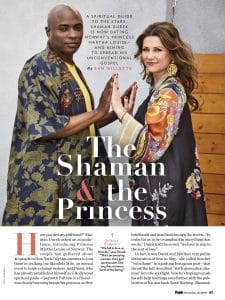 The following article is re-produced with permission from People Magazine.
"Have you met my girlfriend?" Shaman Durek asked an acquaintance, introducing Princess Märtha Louise of Norway.
The couple had gathered about 40 people in New York City this summer to join them in walking the Mandela Mile, an annual event to inspire change makers. And Durek, who has already established himself as a Hollywood spiritual guide—Gwyneth Paltrow is a friend—was clearly beaming beside his princess as they held hands and marched through the streets.
"In order for us to be triumphant in everything that we do," Durek told the crowd, "we have to stay in the seat of love."
In fact, it was Durek and Märtha's very public declaration of love in May—she called him her "twin flame" in a gushing Instagram post—that thrust the self-described "sixth-generation shaman" into the spotlight. Now he's hoping to push his self-help teachings even further with the publication of his new book Spirit Hacking: Shamanic Keys to Reclaim Your Personal Power, Transform Yourself, and Light Up the World.
With his claims of spiritual powers, past lives and stratospheric goals—"I want my legacy to be that I came to Earth to build leaders who left legacy," he says—Durek, 45, knows he faces plenty of skepticism. "I'm not here to tell [critics] that something's wrong with them," says Durek, who has said he has "rescued" people from cancer by serving as a "messenger of God." "When people say things like, 'That's not real,' to me you're basically narrowing down your consciousness and your ability to be aware of what's possible. You're only seeing one angle."
Nothing in Durek's life has raised more eyebrows than his headline-making romance with Märtha, 48, who is fourth in line to the Norwegian throne. The pair were set up by a mutual friend and instantly connected. "She walked in and she said, 'I remember you, I know who you are,' " says Durek, who calls the princess his first love and writes in his book that he's attracted to both men and women.
"I was like, 'Yes, we knew each other from a very long time ago.' It just came out of my mouth." Recalling the encounter, Märtha says, "I came in the door, and I recognized him straight away. I was like, 'I know you,' That's the first thing I said to him." Durek says that when he was 15, his mother prophesied that he would end up with a Norwegian princess. "When we're together and I look at [Märtha], sometimes I see another face," he says. "And she sees it in me, too. I have memories of us in Egypt, and she was my queen and I was a pharaoh."
The couple know that their views strike many as outrageous—but they brush off the doubters. "To those of you who feel the need to criticize: Hold your horses," the royal mom, who has three daughters with ex-husband Ari Behn, wrote on Instagram. "It is not up to you to choose for me or to judge me. I don't choose my man to satisfy any of you or the norms or boxes you have chosen in your mind for me to be in. I don't thrive there, nor do I exist in your illusion about me. I choose from love."
Durek—who says he acts as a "bridge between the spiritual and the physical planes" to help bring "success, happiness and healing into people's lives"—has been equally passionate when speaking of the princess. "I see myself in her, and she sees herself in me: the kindness, the love, the playfulness, the silliness," he says. "She's a princess, and she grew up in a royal family, but she's real. She hugs people like I do. She plays video games with me, and she does fun things with me. If I skip down the street, she skips with me, and if I do cartwheels, she wants to do cartwheels. What kind of princess does that?" Durek grew up a world away from palace life.
Born Derek Verrett in Sacramento, he was a toddler when his parents split. In Spirit Hacking, Durek writes that he comes from a long line of spiritual practitioners but that he was condemned by some family members after his "abilities" appeared as a child. He also details claims of sexual abuse by a babysitter—which he says led to a battle with alcoholism. Durek got sober in his 20s, and at age 27, he says he survived a near-death experience after suffering a series of seizures after a trip to the jungle. "Dying was one of my rites of passage as a shaman," he writes in his book, calling it a "brutal initiation . . . that flooded my consciousness with sacred teachings."
Eventually Durek established himself as a popular spiritual guide in Hollywood (see box). He says his four siblings have their own unique gifts, and that when they gather together today, "it's like being in a family of witches. Nothing is normal in my life. My sister walks in the room, and someone's talking about something, and she will hit a tarot card and be like, 'Pull this.' Then she'll say, 'This is what this means. Stop messing around with that energy.' "
When he's not splitting time between L.A. and London, Durek is traveling the world to meet private clients—and rubbing elbows with the Norwegian royal family, including Märtha's parents, King Harald V and Queen Sonja.
"Her family's wonderful—they're very laid-back," says Durek. "There's royal protocol in certain areas of the royal family, but if we're all just hanging out in the living room having tea, I'm not going like, King Harald, Queen Sonja."
Looking ahead, Durek says he and Princess Märtha plan to continue spreading their message, as they did on a "wellness tour" earlier this year. "I want people to become spiritually independent, which is where they see they're powerful within, not without," he says. As he told the crowd at Mandela Mile with his princess smiling beside him: "Unconditional love is the ability to recognize that everything that exists should be loved. It's you. It's the air. It's the sky. There's only the path of love. Love is your signpost to life."

Shaman Durek's YouTube channel hosts powerful life-enhancing content to lift and shift you into Being Your Own Damn Guru. 
This includes special meditations, guest conversations and messages of love. Some of this content can also be found on his Instagram channel.
Check out these lit videos and click the button below to Subscribe.
How to Evolve; It's not what you think!
Every human being on the planet has a unique energetic signature that connects them to specific energies and frequencies that…
Are you surrounded by Energy Vampires?
If you're a person who thinks your energy is being drained, you actually put yourself around energy vampires, so they…

Don't ever second-guess the importance of your being. If you exist, you matter. You don't have to achieve anything to…
Is your energy being pulled from you?
Because human beings are driven by our need to be liked & need to belong, many of our relationship dynamics are marked by…
Subscribe to Shaman Durek's Youtube Channel
Click now to subscribe and experience exclusive and LIT video content from Shaman Durek.