The only reason, why I was able to write this interview, which you are about to read, is because I met Shaman Durek Verrett. I do not believe in coincidences. I think that everything comes to us for a –certain- reason. It has happened to me that way. I full-heartedly wish that you find something for yourself throughout these lines.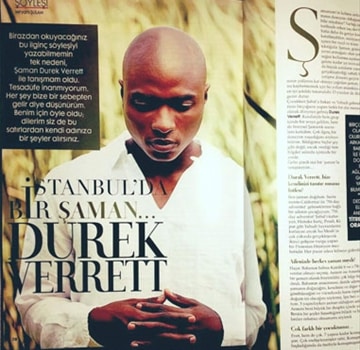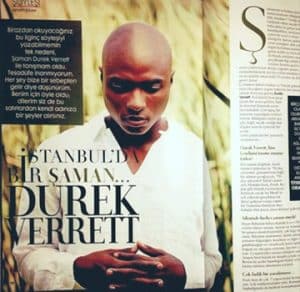 Did you know that the meaning of Shamanism is 'Experience'? Its existence is proved to be since the Early Stone Age of human history, even earlier. It is a technique of ecstasy and trans, and requires initiation. Until the stage of being able to use the gifted talent of the Unseen, a Shaman patiently goes through a seclusion or cultivation period. A Shaman, who is invited to go through all paths of the Universe, needs to know all these paths not to lose his way throughout his journey. That is why he constantly travels.
Durek Verrett was born as someone, who follows most of the Jewish traditions and looks forward to Shabbat as a kid. I have been with him within a group and also joined him for a personal session. I could tell you that i had a very interesting experience. It is like nothing we have come to know, however, all the information that he passes on is somewhere inside us already/already within us somewhere/a piece of us.
Let me introduce you to a 'shaman', if you would kindly let me….
Durek Verrett, could you please tell us about youself?
I was born as a Shaman. I am the only son of a family, devoted to the '7th day adventist' traditions, living in Sacramento California. '7th day adventists' (The Seventh-day Adventist Church) is a Protestant Christian denomination distinguished by its observance of the Sabbath, and by its emphasis on the imminent second coming (advent) of Jesus Christ. They celebrate each of the Jewish holidays such as Passover and Yom Kippur except for Hanukkah. We used to go to the Church every Sunday as a Family.
Was everyone in your family a Shaman?
No. My Grandfather on my Father's side was a Catholic and he was the one who chose The Seventh-day Adventist Church. My mother was raised as a shaman with American roots; was a very wise woman. The Grandmother of my father on his mother's side, had the prescience that a shaman would be born to our family. He would be able to see her and other souls and would have a birth mark on his body to prove and indicate that he is the One. I was that child. It was clear that I was a Shaman when i was 5 years old. My Mother raised me in full discipline. She knew that I was able to feel stuff and told me not to be bothered by it.
You were a very different kid….
Yes, very different indeed. I did not talk until I was 7. They were totally concerned about the fact. When I first started talking I was only whispering things. I did not talk in full sentences. My Father remembers the very weird continuous smile on my face as a kid even to this day. When I was 3, my mum took me to a dentist. I had disappeared within a glimpse/all of a sudden. After looking for me for a while, she found me hugging a woman at the very end of the waiting-room and whispering something to her ear. I was passing on the message she needed to hear! I happened to do this all the time and people usually cried when I did that.
What about the religious obligations?
As a matter of fact, the biggest challenge was my Grandfather. He would not understand me for he was afraid of God. I had put myself into trouble and was slapped because I had wanted to play with my electrical train toy on a Sabbath day. My father sat down to tell me how a kid was punished by God for carrying wood on his back on a Sabbath day! I never understood this. I could understand the "resting" on a Sabbath, but would never get why I should be in trouble for using electricity!
When did you start acting Freely?
When I was 11 years old, i started my training as a shaman in Foster, San Francisco. I also went to regular school at the same time. I was not very happy at school because I was often humiliated and beaten up by other kids. Then I noticed that other Jewish kids were going under the same (condemnation), so we became good friends.
How was your education?
My first teacher was a woman named Diana. She had thought me how to protect myself from the darkness. She also thought me how to take others under refuge. My other teacher Susan, was a princess from the Croatian Royal Family. She thought me how to protect myself from others, and how to use and strengthen the talents I had as a Gift.
We learnt that you also worked with a Jewish Doctor….
Mr. Da Vid, was a doctor of holistic medicine. As he was teaching me about human body, he also thought me what people did to their own bodies. I also learned Kabbalah from him. He had many herbs, stones and crystals. He taught me how to love and give; as well as finding ways to find the balance we need, through light. He also taught me what energy means and how we treat ourselves. I got training from him for solid three years at a very beautiful chalet. I applied to a holistic school at Berkley, California. I kept on with my training as a health instructor.
While helping many people as a shaman; I was being informed by my friend's rabbi father on Torah. One day they took me to the Wailing Wall. I did not really know what to do. But they told me "He is with you!" so the moment I opened my hands to the Wall, I felt an intense vibration and knew that God was there.
You lived in Israel for a while….
At the age of 24, I was living a shamanic life in Italy. One day we were invited to my friend Princess Donatella Borgese house for a dinner. An Israeli named Moti sat right next to me. His brother was an Israeli soccer player named Eyal Berkovic. When they found out that I was a Shaman, they invited me over to Israel. When I found out that there was only one seat left on the plane, I figured that I was meant to go. I went to Israel in 1998 and stayed in Haifa for about a year and a half.
Could you tell us about your first night in Israel?
Yes, that was one of the milestones in my life. I felt very sick when I got to Israel. I had hi-fever and was sweating non-stop. I felt as if I had been poisoned. However, Moti insisted that I join the dinner table on Sabbath. Although I was so very sick, I sat at the dinner table. His Grandmother was sitting on the chair right across from mine and she said "Do you know why you are so sick? Because you know what they have done to us Jews!" I was shocked but all of a sudden I had many visions appearing right in front of my eyes. I saw myself in another lifetime in Egypt. I was Hebrew but I was given Egyptian authority. I was tormenting my very own people. After this experience, my mission was to help the Israeli people.
How did you make a living in Israel?
As my friend Arik worked on music video sets, I met his director one day. He asked me whether I could dance. I accepted his offer of me being one of the dancers in the video clip. Later on, I signed a year contract with the owner of the Image Models. I was continuing to help people as I had guaranteed my living throughout the time I spent there. One day my friend Malka took me to a synagogue. His father was a rabbi. I did not clearly understand everything, but I felt that these prayers were strengthening my powers so I started going to prayers on a regular basis.
Did you keep up with your mission even after you were a famous model?
When I was on my first cover of a magazine, I was famous in Israel. As a matter of fact it was war time and we started to do special organizations for improving people's morale. We did some catering and music organizations at the same time. These events were very exclusively held at peoples houses or parks. Through these events I would get the chance to meet my clientele. While helping many people as a shaman; I was being informed by my friend's rabbi father on Torah. One day they took me to the Wailing Wall. I did not really know what to do. But they told me "He is with you!" so the moment I opened my hands to the Wall, I felt an intense vibration and know that God was there. God was love and I had suddenly start to realize/perceive everything. I found myself on the ground and my nose was bleeding. This was a sign. I got to meet so many different people out there. Israel has affected me like no other place on Earth.
Were you also invited to Turkey?
Yes; I took part in Hande Yener's video clip. I worked for a while on Number1 TV as the only English VJ, hosting my own programme. During my first days of visit I met Ceyda Habib. She introduced me to so many people in the Jewish community. She made me come back to Turkey after 15 years. I keep on holding both private and group sessions in İstanbul, İzmir, Antalya and Bodrum.
Could you give us more details on your work?
I have worked with a group of Women in Istanbul. I taught them different shamanic techniques. These were the spiritual studies; I chose to work with these women to make them feel stronger and hold tighter on to life. Through this group work, these women had strong connections amongst themselves. Shamanic Techniques are based upon Love. Most people do not even realize that they do not Love themselves. First I give them an idea on how to love themselves and teach ways to do it.
What are your near future plans?
I will come to Istanbul every two months to keep up with my work here. I currently have a lot of projects going on with the Jewish society in New York and New Jersey. We established a special association named 'Heaven and Earth' in NYC. Soon, my book is coming out. It's a diary of a shaman on his spiritual journey. My biggest goal(?) is to become the Peace Ambassador/Envoy for the whole World.
Could you please give us Shalom readers a Motto?
I have three Mottos for you instead of one:
1-Imagination is the trainer of the human soul.
2- Evolution is walking towards your fears.
3-All the gold you can dig in the soil and more already exists in your own Hearts!
Do you think there is similarity between Kabbalah and Shamanism?
They both are rooted to the ancient times. Shamanic culture relies on the idea of devotion to Earth, to the self, to people and to the sacred One. Shamans were one of the 12 sociologies/people (?) mentioned in the Torah. Those were the spiritual people, who protected the balance between peoples. Moses was also a shaman. As he was coming out of Egypt, he met the shaman father of –later his wife to be- Tsipora's father, who was the king of Median. Shaman's mission is to guide people on their path to living their life to the fullest. Kabbalah informs one on how to understand the human soul, to expand it and to maintain the awareness regarding. Most people have lives full of demolitions. If you live your life under the guidance of a Shaman or Kabbalah, you preserve it. I have meetings with Rabbinate Karen Carla Deitsch in Los Angeles. We exchange knowledge on Shamanism and Kabbalah with her.