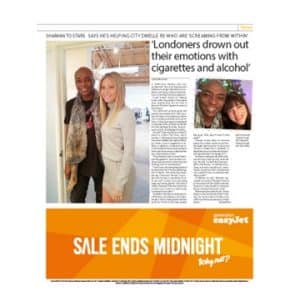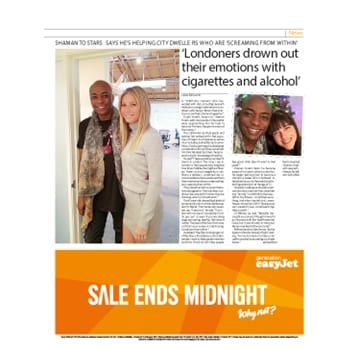 This is a full online re-paste of The Evening Standard print piece about Shaman Durek. Re-Produced with Permission.
A "SPIRITUAL shaman" who has worked with stars including Gwyneth Paltrow is turning his attention to Londoners, who he says "drown their emotions out with alcohol and cigarettes". Durek Verrett, known as Shaman Durek, said more people in the capital were approaching him for help to become "the best, happiest version of themselves".
The Californian spiritual guide and teach has worked with chief executives of major US companies as well as stars including Selma Blair and LeAnn Rimes.
Twelve years ago, he developed complications from an illness which left him clinically dead, but claims he recovered using his knowledge of healing. He said: "I have a growing number of clients in London. The issue I see in London is that people have forgotten how to be childlike, their light and their joy.
There is so much negativity, it is an illness, a darkness. Londoners are so concerned about how people see them, they trap their emotions inside and they are screaming from within. "They drown emotions out with alcohol and cigarettes. The time when Londoners become joyful is when they are drinking, which is not authentic." The 42-year-old claimed high levels of anxiety and cynicism in the capital were also to blame.
"Normal anxiety levels are, say, 15 per cent," he said. "In London with my clients, I would say it is at 55 per cent. So even if you are doing yoga and eating healthy, that doesn't matter. The level of the stress hormone cortisol in your system, it is destroying Londoners from within."
He added: "I feel like I can help get rid of this illness, this darkness, of London people. I want to help people maintain positivity. Positivity will make people feel good. Who doesn't want to feel good?" Shaman Durek claims he became aware of his talents when he was five. He began learning how to become a shaman, a healer who is believed to have direct access to the world of spirits, both good and evil, at the age of 12. "As a kid, I could see spirits and I could see emotions and how they were feeling," he said. "I could talk to the trees, talk to the flowers. I could feel everything. And when I say talk to it, I mean have a connection with it.
People were very scared of me as I could see things they couldn't." Of Paltrow, he said: "Basically, she sought me out and I thought it was for an interview with [her health website] Goop but it was actually to hang out. We are now like brother and sister." Paltrow has described him as "both a beacon of and a channel of light", adding: "His mission here is to help us all uplift ourselves
by accepting our innate power."